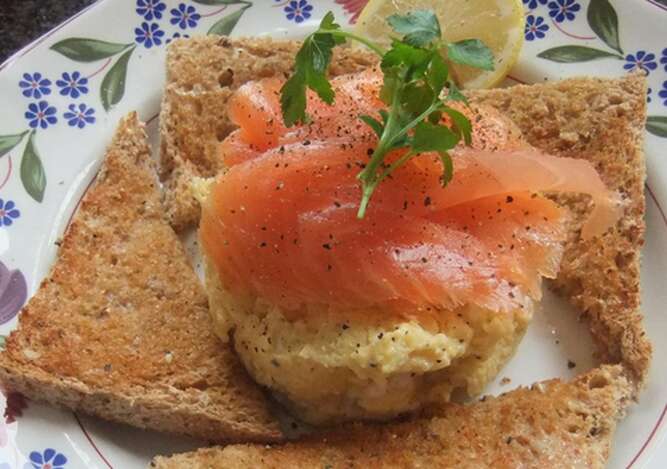 Breakfast
At Arden House, we serve a freshly cooked, home made breakfast between 8am and 9am. Relax at your own table and enjoy the most important meal of the day in our elegant dining room with its far reaching views, period features and log burning stove for those colder mornings. We are happy to cater for special dietary requirements - please just let us know at time of booking and we will do our best to accommodate. This is a sample of our typical breakfast menu - it is subject to change according to the season.
Sample Menu
Please help yourself to:
Fresh Fruit Juice
Selection of Breakfast Cereals and Homemade Granola
Fruit and Natural Greek Yogurt
Whole Fruits, Seasonal Fresh Fruit Salad and Homemade Fruit Compote
Bakery Basket
Local or Homemade Jams, Marmalade and Honey
To Follow freshly prepared from the Kitchen:
Traditional Scottish
Dry Cured Smoked Bacon, Traditional Pork Sausage, Local Haggis, Oven Roasted Vine Tomatoes, Sauté ed Mushrooms and Tattie Scone Served with a Fried Egg
*
Skinny Breakfast
Wilted Baby Spinach, Oven Roasted Vine Tomatoes, two Poached Eggs with a sprinkle of Paprika served on Granary Toast
*
Breakfast Bagel
Lightly Toasted Bagel topped with Scrambled Eggs and Dry Cured Smoked Bacon
*
Scottish Smoked Salmon
With Scrambled Eggs and Granary Toast
*
Boiled Eggs
Two Lightly Boiled Eggs served with Buttered Soldiers
Freshly Ground Coffee, English Breakfast, Earl Grey or Herbal Tea
Enjoy a Taste of Scotland at Arden House
We take pride in knowing the provenance of the extensive range of Scottish produce on our breakfast menu and use only the very best of available ingredients - all of which are, wherever reasonably possible, sourced locally. Our dry cured bacon, traditional pork sausages and haggis are supplied by butchers in the local area. The smoked salmon is responsibly farmed in Scotland. We use Scottish vine tomatoes, mushrooms and locally grown fruit when in season. In the garden we grow our own rhubarb, herbs and apples. Eggs are free-range and supplied by the 'girls' at John's Chicken Ranch in nearby Keltie Bridge. Our potato scones, buttermilk scones, pancakes and cakes are lovingly made in the Arden House kitchen. The preserves, honey and oatcakes are all produced in Scotland and often made in the kitchen @ Arden House. Our teas and coffees are Fairtrade.
Businesses that achieve the Taste our Best award are committed to serving quality Scottish produce, prepared with care and delivered with passion. Arden House is very proud to hold this award.